Plantoil Chain Saw Oil is a rapidly biodegradable, low fling, ecologically compatible lubricant, based on rapeseed oil – a renewable resource.
Plantoil Chain Saw Oil is non-toxic and more than 90% biodegradable within 21 days, according to the CEC-L-33 test method. It does not harm forests or waterways and using Plantoil Chain Saw Oil ensures that chain saw operators are not subjected to the health risks associated with mineral oils.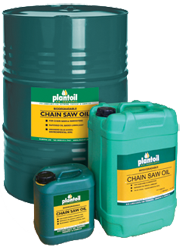 Plantoil Chain Saw Oil is manufactured specifically for Chain Saw
lubrication and also meets the stringent standards of the "Blue Angel"
environmental seal. Blue Angel-labelled products are readily
biodegradable, free from water-endangering substances and
noticeably ease the impact on soil, groundwater and water bodies.
Rapeseed Oil is naturally a more effective lubricant than mineral oil and, because it has a positive molecular polarity, Plantoil Chain Saw Oil is attracted to the negative polarity of steel. The result is an active film of oil which adheres to the bar and chain, giving reduced fling, lower consumption, and a cleaner and more free-running chain, with reduced wear to chains, bars and sprockets.
Plantoil Chain Saw Oil has been tested by timber professionals during tough, sustained cutting with saws from major manufacturers. Tests have demonstrated that Plantoil Chain Saw Oil combats deposits formed from sawdust and tree sap, helping to reduce chain link wear and chain elongation. For chain saw users this means increased cutting performance and reduced downtime for maintenance. In addition, reliable operation of the chain brake also depends a great deal on the quality of the chain lubricant being used.
With a low pour point of minus 36°C, and good flowability even after being stored for 3 days at minus 25°C, Plantoil Chain Saw Oil won't let you down - even on the coldest British winter day. At the opposite end of the temperature range, you can feel safe in the knowledge that it has a flash point in excess of 270°C.
Tests have also shown that Plantoil Saw Blade Oil remains neutral when in contact with all materials used in the manufacture of a chain saw, and it has no negative effects on the plastics, sealing materials or paints used.
To place an order for Plantoil Chain Saw Oil please complete and submit an
online order form. Alternatively, please call our Sales Office on
FREEPHONE 0800 013 7363 or email your requirements to sales@plantoil.co.uk