** COVID-19 UPDATE **
WE REMAIN OPEN AS USUAL FOR ALL YOUR LUBRICANT NEEDS
Plantoil Ltd is the UK's leading supplier of bio-lubricants, dedicated to providing UK arborists, foresters and sawmillers with highly-effective, non-toxic, biodegradable lubricants.
Best known for our successful lubricants for Chain Saws and Harvesters, which we introduced into Britain 30 years ago, our portfolio of cost-effective bio-lubricants also includes a range of Sawmilling Lubricants, 2-Stroke Oil, Hydraulic Oil and alkylate petrol.
Plant-based oils are more efficient lubricants than mineral oils; they naturally provide higher lubricity and superior adhesion to metal. The result is more effective lubrication, reduced usage and longer life-cycles for saw blades.
Plantoil lubricants are readily biodegradable and toxologically safe, which means they have minimum impact on the environment and the people who use them; users are no longer exposed to the health risks and discomfort associated with mineral oils.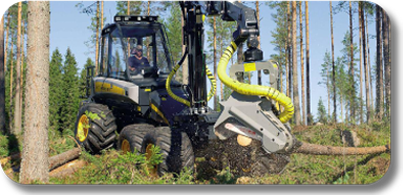 The UK Woodland Assurance Standard (UKWAS) states that a woodland owner/manager "shall adopt management practices that minimise diffuse pollution arising from woodland operations". Of particular relevance to woodland operations are oil spills, leaks and cutting-chain lubricants, and UKWAS guidance states that "biodegradable cutting-chain lubricants should be used where practicable".